Alrighty, folks,
Do I have any Pinterest addicts up in here? Come on, step right up - don't be shy! :)
Hi. I'm Gillian. And I spend WAAAAAYYYYY too much time on Pinterest.
But where else would I find inspiration for projects like this one?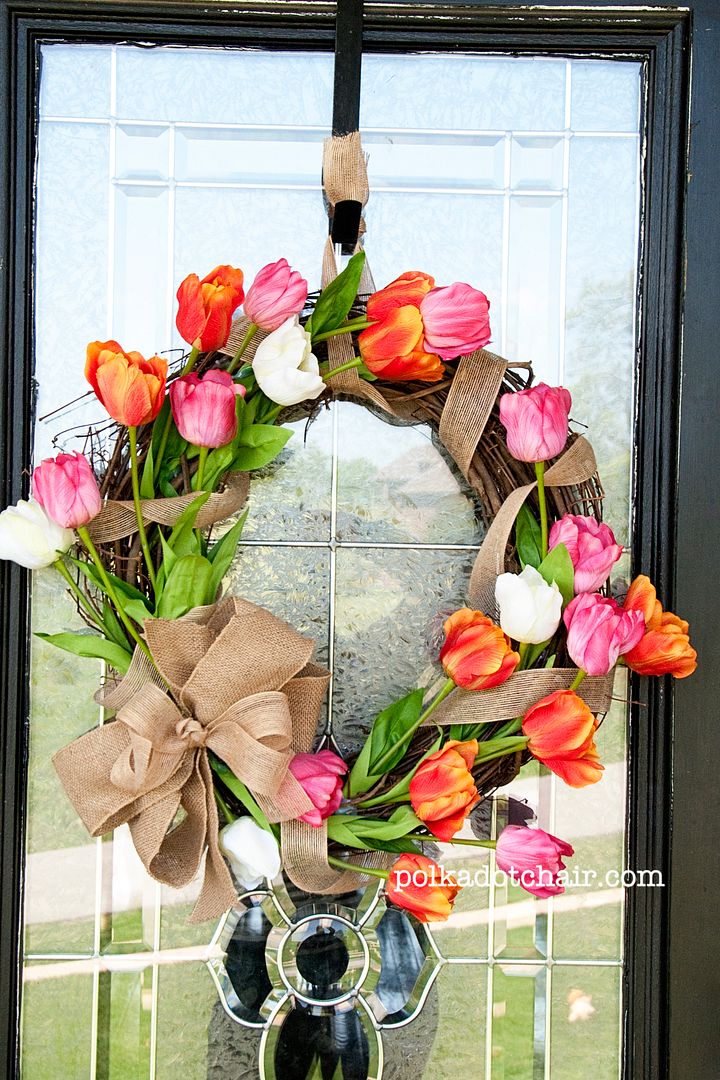 So, I was wandering about on Pinterest one day and I spied this wreath.
"Why," I says to myself, "I could do that!"
So I pin it.
Now the wreath the I had on my door at the time, while nice enough, is kind of dark colors, a bit more suited for winter, and my door is a rather drab grayish teal color, so something was needing to change - it's spring after all! I can't do much about the door - we rent - so it was going to have to be the wreath!
Well, a few days after I pinned the image above, I was wandering around in Dollar Tree and saw the display of silk flowers which just happened to have some bright springy tulips on it.
"Why," I says to myself, "I could make that wreath!"
So I picked up a few bunches of tulips and a roll of ribbon; then, while I was at Walmart, I grabbed a grapevine wreath and we were all set!
After about 30 minutes of snipping and wiring, this is what I came up with:
Please, pardon the blurriness - my small people seem to enjoy putting fingerprints on my camera lens, which I don't usually discover until AFTER I take pictures - and find them all blurry in certain spots.
My biggest problem with it is that Walmart only the smaller size wreaths in at the time, and rather than wait or drive somewhere else to find a bigger one I just went with what they had - I'm impatient like that! :) It would look better if it was bigger, but it's a nice bright springy spot on an otherwise drab spot.
Cost?
Flowers: $4
Ribbon: $1
Wreath: Around $2.50 (don't remember exactly)
(I used a small amount of florists wire, but I normally have that on hand. I could have also used hot glue, but that would have required me figuring out what I did with it when we moved. Wire was easier.)
Obviously, you can tell if you really want to that it's made of el cheapo flowers - but for something that's going to hang outside in this Louisiana weather (which destroys things pretty rapidly), I'm not about to pay $5 a stem for nice flowers - I'm cheap like that.
Mostly, it's pretty and colorful - and that makes me happy!